I first saw The Bad Seed in my high school film class and it was love at first sight.  Sure it's got campy written all over it with heavy-handed acting and characters breaking into monologue but the acting and plot keep everything from going off the rails.  The film is remarkably deep, choosing to lead the plot away from simply being a child murderer tale into a psychoanalytic discussion on nature vs. nurture.  I always recommend people see The Bad Seed.  It's fun and it's permeated popular consciousness.  You'd be surprised to see the television shows (South Park in particular) and movies that borrow from The Bad Seed.
The Penmark's live the perfect life.  Daughter Rhoda (Patty McCormack) is a little girl with the air of an adult and is praised by everyone.  Things take a turn though when a classmate at Rhoda's school ends up dead and suspicion falls on the little girl.  Her mother Christine (Nancy Kelly) slowly becomes convinced that her daughter is a cold-blooded killer.
One thing to be praised in The Bad Seed is how theatrical this film is.  It's based on a play by Maxwell Anderson and while I'm unaware of how accurate the play is to the film I know the Broadway cast is reassembled for the film, despite Rosalind Russell being up for the role of Christine.  It's this quality that elevates the film above a schlocky B-picture.  The film is confined to one location for about 95% of the film, that of the Penmark's house, and it's heavy on dialogue and discussing the psychology of people.  Despite Rhoda being accused of murder you never actually see any violence committed and yet you fear Rhoda all the same for her lack of empathy (a theme that we're seeing in all these "killer kids" films).  Sure the stagy quality makes some of the acting laughable, especially with the character of Leroy (Henry Jones) who has a lengthy monologue in the opening, or the way characters simply walk into the Penmark house, but really that's the only moment where the play doesn't translate.
The film is a stark look at the mind of a sociopath and how such people are created.  Again, you don't expect this within a film like this but the movie and screenplay do a great job of arguing for and against the idea of inherited homicide.  The question of whether a person is "born bad" or not is always on the tip of your tongue because Rhoda has all the advantages of a happy childhood and yet she's completely lacking in emotion or sympathy for others.  This doesn't mean she's a murderer and for almost the entirety of the film's runtime there's an air of ambiguity as to whether Rhoda is a calculating murderer or has simply been in the wrong place at the wrong time.  The film's big reveal is that Christine, a happy woman herself, discovers she's the daughter of a deranged female serial killer (having been writing about this for a paper I love how this film brings up Freud's "changeling"  theory).  The film never answers whether a person is born bad but the fact it's asking the question is something.
Patty McCormack is adorably over-the-top as Rhoda Penmark.  She can become grating in her simpering tone and her ways of annoying her mother (slapping shoes together, playing piano), but I think that's to further get the audience against her than anything else.  She's so deceptive in her perfection and yet you can tell that's a façade.  For all her smiles and curtsying she's a total bitch, for lack of a better word.  She treats the janitor Leroy like garbage (although he is creepy and just as bad) and she murders little Claude Daigle purely for a penmanship medal.  To diverge for a second, the way Rhoda says "Claude Daigle" is a joke in my house because its way too easy to mimic how she says it.  Second, a penmanship medal?  I was lucky to get a printed off certificate when I won something…1956 was a good year for education I guess.  Also, poor Claude never gets justice.  All we know his tombstone could read "Here lies Claude Daigel…what a dick."  Anyway, Rhoda is one of the preeminent child psychopaths in film and Patty McCormack is the only one I could see in the role.  The best line from her: "Why should I feel sorry?  It was Claude Daigel got drowned, not me."
The rest of the cast is equally well-done.  Henry Jones is delightfully licentious as Leroy.  Throughout the entire movie it's said Leroy only has a job because he has a family yet he lives in the basement and talks about trying to seduce Christine!  He's one of the few characters free of artifice in this film as he states how he sees through Rhoda "and she sees through me."   For all his lecherousness, landlord Monica (Evelyn Varden) says she believes Leroy has "psychopathic tendencies."  Um, I don't care if this guy has a family of 12, your letting him work around stay at home moms and children?  And given him unlimited access to everyone's house?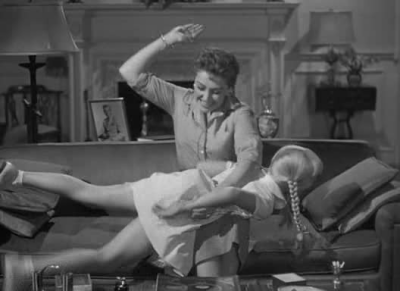 Nancy Kelly who plays Christine is so vulnerable and sweet throughout the movie.  She's superb in this role especially taking into account the emotional rollercoaster her character is on.  She has to convey love, fear, surprise, disgrace, all at once in several scenes.  I don't have a problem with her acting although there are a few instances where her attempts to be consoling with her "Oh I knows," does sound a tad condescending and fake but I think that's attributable to the stage nature of the acting in general.  The scene stealer of the film is Eileen Heckart as Hortense Daigel, Claude's mother.  Heckart won a Golden Globe for her portrayal of the bereaved mother (and was nominated for a Supporting Actress Oscar along with McCormack and Kelly in the Leading Category).  Heckart is brutally honest throughout the entire film and it's apparent how much she loves her son, possibly due to being an older mother.  Her sad and boozy character is one of the film's memorable roles and who doesn't love her introductions to the characters, "I'm a little drunk?"  You feel for Hortense from beginning to end.
The film did run through a few endings with the original being that Christine dies and Rhoda lives.  Albeit a realistic ending but one that the Motion Picture Production Code would not endorse due to its stance against letting the villains get away with their crimes.  Instead the film ends with Rhoda going back to the pier, after Christine has tried to poison the girl and kill herself, and is subsequently struck by lightning.  It's a laughable ending because of how ridiculous the whole thing is but I guess the MPPC could have found a worse ending.
I can't praise The Bad Seed enough.  It's camp at its best and the acting is amazing.  The stage nature of the film keeps the plot focused as well as opens it up to exploring the mind of a killer.  Far better than expected!
Type of Horror: Psychological, Killer Kids
Fright Meter: 1
Grade: B+
Interested in purchasing today's film?  If you use the handy link below a small portion will be donated to this site!  Thanks! 
Buy on DVD
Buy on Blu-Ray