Fridays With Carmen Miranda: The Gang's All Here (1943)
The final Fridays With recipient until fall is the "lady in the tutti frutti hat," Carmen Miranda! The Portuguese chanteuse best remembered for her fruit-inspired headgear popped up in several 20th-Century Fox musicals, usually paired with Alice Faye. We start with her fifth outing for Fox, The Gang's All Here, now on Blu-ray courtesy of Twilight Time, is a wartime bonanza directed by legendary choreographer Busby Berkeley with less plot than an Esther Williams film. But who needs plot when you have so many expertly constructed dances?
Andy Mason (James Ellison) is a soldier on leave who meets and falls for Edie Allen (Alice Faye), a showgirl with big dreams. A series of hijinks ends up putting Edie and the rest of her cohorts from the Club New Yorker (including Carmen Miranda as a singer named Dorita) on a collision course with Andy's family and his fiancee, Vivian (Sheila Ryan).
Originally envisioned as another pairing for Alice Faye and Don Ameche, Ameche was finishing up Ernst Lubitsch's Heaven Can Wait (1943), leaving contract player James Ellison as the lead. Faye gets in a fun jab at Ameche's absence, but his absence is sorely apparent. "Stop acting like Don Ameche," induces laughs because Ellison's far from it. His ill-defined nice guy persona lacks the added zip someone like Ameche, or another star deft at romantic comedy, provides. Berkeley probably figured this out since there are very few close-ups of Ellison, and when he and Faye talk the shots always are usually over his shoulder, with the hope Faye's face will distract the audience.
This was Berkeley's consolation prize after being fired from Girl Crazy (1943) and he wastes no time pulling out all the stops. A large scale musical performance dominates the film's first 15 minutes, leaving the audience wondering if they're watching a stage play or an average opening scene. Things play out with no explanation of what's going on, and it isn't until Eugene Pallette and the always reliable Edward Everett Horton arrive that we're given an indication things are happening in a nightclub. With this being a wartime comedy the Club New Yorker has a Hollywood Canteen vibe, and when the plot finally kicks in around the thirty-minute mark you'll either be disappointed that the narrative's taking us away from this cameo club, or dying for something to happen.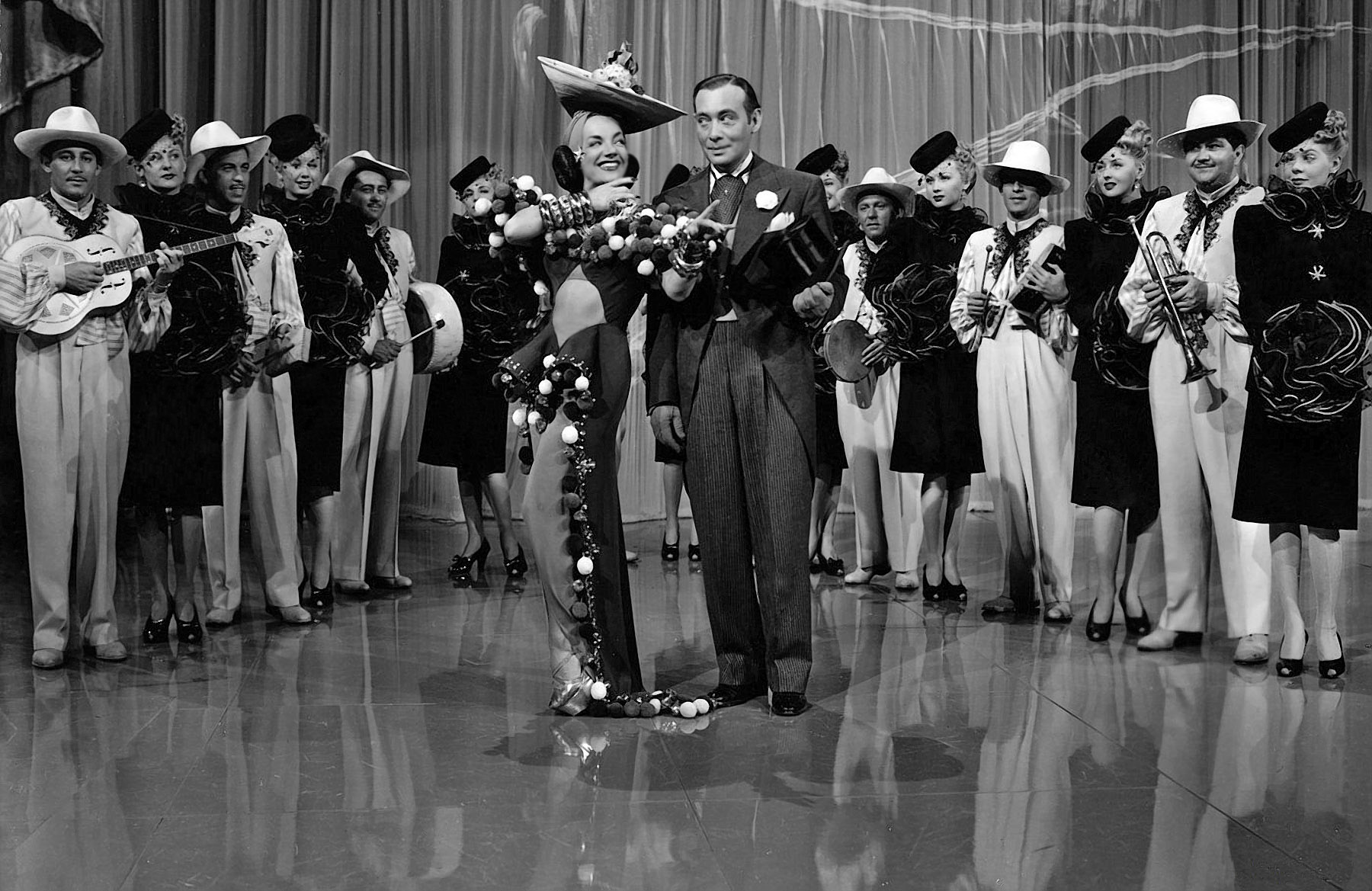 This back and forth on plot is what makes The Gang's All Here as compelling as it is frustrating. On the one hand, the dancing and set design are fantastic. I tuned out during the plot, looking up when someone started harmonizing. But, conversely, I wouldn't have been so distracted had the characters and story gripped me.
Berkeley situates events and relationships are situated around set pieces, and, boy, are they impressive. Berkeley staples, like water fountains and crane shots are present, along with large props (that the Hays Office thought might be a bit too symbolic). The key note performance is Miranda's "The Lady in the Tutti Frutti Hat," complete with large bananas that swirl and dive alongside the beautiful chorines. Unlike other Berkeley films there aren't nearly as many overhead shots or expansive displays like his 1930s work; the gang may be here, but they didn't bring their moving pianos.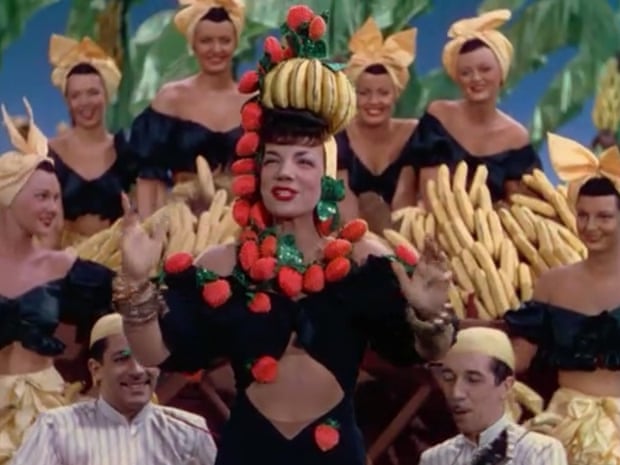 Alice Faye always seems perpetually depressed. Her songs are catchy but, like many of the actors assembled, she's wandering around in search of something to do. Faye's on par with the equally generic Sheila Ryan, a combination Cyd Charisse/Linda Darnell. (Like Ameche, Darnell was supposed to play the role but couldn't.) Miranda, the star of our month, is a breath of fresh air as Dorita. It's not often we see actual Latin people playing non-caricature characters – although Miranda became a caricature. Her songs are fun but she excels more in dialogue sequences. Her accent allows her to do some funny line readings, listen to her say she's "cool as a cucumber." Eugene Pallette and Horton are a great comic team, and Charlotte Greenwood….wow! Greenwood's legs flying all around are their own reward.
Twilight Time gives us an utterly AMAZING presentation. The requisite crisp picture and audio cause the color to pop. Bonus content includes the usual isolated soundtrack and trailer. The highlights though are the two audio commentaries, one of them with film historian Drew Casper, but it's the other – with Glenn Kenny, Ed Hulse and the lovely Farran Smith Nehme – that's a must-listen. The disc also contains Alice Faye's last film, We Still Are! and a deleted scene.
The Gang's All Here is a bright, if dull, WWII romantic comedy. Audiences in 1943 definitely needed a pick-me-up and the absence of story allowed them to kick back and not think, so in that regard it's a success. In 2016 you're left waiting for the dances and Carmen Miranda, but I liked it enough.
Ronnie Rating:
Interested in purchasing today's film? If you use the handy link below a small portion is donated to this site! Thanks!
A freelance film critic whose work fuels the Rotten Tomatoes meter. I've been published on The Hollywood Reporter, Remezcla, and The Daily Beast. I've been featured in the L.A. Times. I currently run two podcasts, Citizen Dame and Ticklish Business.